Smile.... you're on the 21st century's version of Candid Camera.
Whether you're an Islamic troublemaker in North Waziristan, a rowdy football fan, or a hopeful immigrant trying to slip across the border, the eye in the sky sees everything.
In the halls of power, there's a term for this. It's called the surveillance society. And it is one of the biggest trends inside and outside the military industrial complex.
Also known as ISR - intelligence, surveillance and reconnaissance-it's an outgrowth of more than a decade of war in Iraq and Afghanistan. It's a place where everyone has heard of unmanned aerial vehicles or UAVs.
But while UAVs are an amazing technology in themselves, they aren't very effective unless they can report on what they see -that's the ISR piece of the puzzle.
And that's precisely where a company like FLIR Systems Inc. (Nasdaq: FLIR) comes in. FLIR provides the optics and equipment to make it all happen both in the air and on the ground.
What Analysts are Missing About FLIR Systems
Founded in 1978, FLIR has developed a reputation for building world-class equipment.
And now that these systems have proven themselves in some of the harshest conditions on Earth, the company is expanding to a broad number of other applications in market sectors outside the military.
However, looking at FLIR's chart, it's an understatement to say that this specialty defense imaging stock has been hit hard by the budget cuts and the winding down of our presence in Iraq and Afghanistan.
But there's one thing the analysts are missing. The commercial applications beyond the military are where the money is at this point.
It's like when the same analysts blew the call in the opposite direction years ago with iRobot (Nasdaq: IRBT) when they pinned the entire business on its retail products, like the Roomba vacuum.

The real money was its burgeoning defense contracts. The military started to buy its robots, or unmanned ground vehicles (UGVs), and the stock took off.
Here it's the opposite story -- FLIR's stock is being discounted because its military work is slowing. It's a sucker's bet.
Here's why....
FLIR Takes a Licking, But Keeps on Ticking
FLIR develops and makes forward looking infrared (FLIR) cameras, or in tech-speak, thermal imaging systems.
These cameras can see at night, through rain, fog, or snow-- you name it. These IR systems are also very good at picking out heat signatures and FLIR's system is top of the line.
The military uses them on the wildly popular unmanned vehicles as well as for base camp security cameras. The plastics industry also uses the equipment for making specialty plastics.
Sailors even use them 24/7 to see through the pea soup at sea.
FLIR started selling these cameras to home and business security companies as well as other commercial industries a few years ago. It's become the fastest-growing division of the company. Sales in its commercial division were up 3% last quarter.
What makes FLIR's cameras such a hit in the private sector is that they're built to military specifications, which means they can take a licking and keep on ticking.
FLIR's systems are made of steel and heavy duty optical-quality glass lenses, bolted into cases that can take winters in the mountains of Afghanistan, summers in the Iraqi desert or wind and weather at 30,000 feet.
On the other hand, its competitors have plastic boxes snapped together with plastic lenses.
First responders, law enforcement, fire and rescue, homeland security as well as shipping, chemical, refining and commercial/residential security companies are all very viable new and developing markets for FLIR. Companies and organizations will pay up when they need reliable, accurate and robust equipment.
Spending Cuts? Not For FLIR
What's more, even though the government is cutting back, it's not cutting back on ISR, UAVs, or battlefield technology. The fewer soldiers we need to put in harm's way and the more persistent we can make ISR, the cheaper it is to operate the largest fighting force on the planet.
And if you want to save money in the Department of Defense, it's a lot easier to start with cutting the fuel bill.
Case in point: General George Patton's Third Army of 400,000 men used about a gallon per man per day advancing across Europe in World War II. Today, with about a third of that number, our troops in Iraq were using four times as much fuel.
Some estimate that to keep ships sailing, tanks rolling, Humvees humming and bases operational, the military uses about one-third the nation's oil supply.
Imagine how you could cut those costs by not having to fly sorties with fuel-guzzling planes over hostile territory to gather intel. To make a dent in that consumption would have quite an impact.
With the use of UAVs and the optics systems that FLIR builds, there's no doubt FLIR will have a long and profitable relationship with the military and intelligence sector, regardless of tighter budgets, because it's in strategic sectors that it will continue to grow.
In fact, just this week FLIR announced it had been awarded an indefinite delivery, indefinite quantity contract (the best type of military contract) from the U.S. Army to support the MEDEVAC program.
The contract is valued at $38 million, and is for spare components for Star SAFIRE II stabilized multi-sensor systems installed on the Army's fielded MEDEVAC Blackhawk helicopters.
The company also announced it has received a $17.9 million delivery order from the U.S. Navy Expeditionary Combat Command (NECC) for its SeaFLIR maritime imaging systems. The systems are expected to be deployed on U.S. Navy Patrol Boats.
But with FLIR that's only a small part of the greater story...
FLIR is a great long-term buy up to $26 per share.
Related Articles and News:
Here Are 10 "One-Click" Ways to Earn 10% or Better on Your Money Every Quarter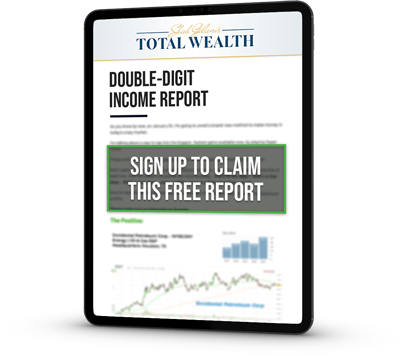 Appreciation is great, but it's possible to get even more out of the shares you own. A lot more: you can easily beat inflation and collect regular income to spare. There are no complicated trades to put on, no high-level options clearances necessary. In fact, you can do this with a couple of mouse clicks – passive income redefined. Click here for the report…