The silver price is about to fly through the roof. And while silver bulls go on a rampage, other investors will be left in the dust.
My advice: Don't be one of them.
Just like I said in my last update, the price of silver has moved into correction/consolidation mode.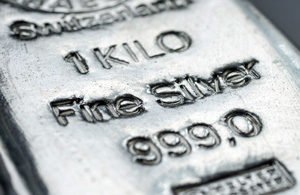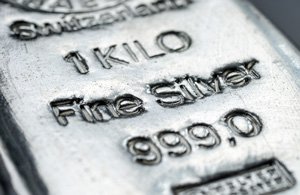 Silver bottomed in late May, when I told you that the gold-to-silver ratio was a screaming silver "Buy."
The silver price then proceeded to soar 28% over the next three summer months. And that's typically a weak time for the metal.
The price of silver has now pulled back 8% as it digests its recent hefty gains.
But I'll tell you why it's still on the climb. Then, I'll share with you my top silver stocks to watch right now.
BONUS:
We're giving away a stock pick we usually reserve for premium subscribers ONLY – but today it's yours for FREE. Click here to get it.
What's Behind the Rise in Silver Price?
A 28% gain is impressive for any asset over 12 months. When it comes in only three months, you need to turn cautious.
That's why I pointed out those risks to you last month. I said, "silver futures speculators are extremely bullish, and that could signal near-term price pressure."
Silver hedgers (the smart money), on the other hand, had built a short position reaching levels last seen two years ago. Take a look at this chart: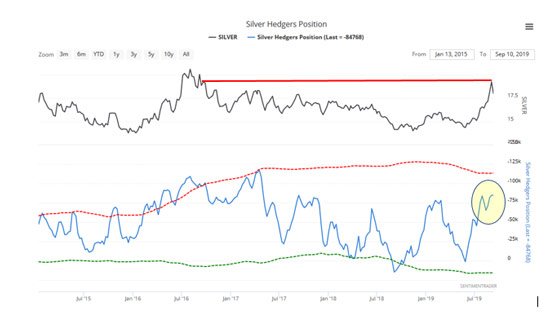 (Chart from www.sentimentrader.com)
This and the huge run-up in silver price were strong indicators the metal was due some price relief.
On Sept. 4, silver topped $19.60, easily taking out highs of the past three years and approaching the $20.50 high of 2016. That's unquestionably bullish action.
Live Now: Robert Herjavec is helping Americans find new ways of investing to create generational wealth. Click here to watch...
And though I think silver will continue to consolidate, possibly for a few more weeks, its natural path is clearly higher.
For some time, I've been telling you about how the gold-to-silver ratio was pointing to a big rally in silver.
Here's a great chart showing that. As you can see, when the ratio peaks and starts to work its way back to the long-term average, silver tends to absolutely soar: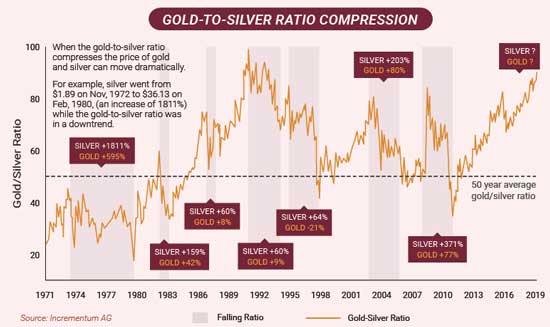 (Chart from Visual Capitalist)
This has happened multiple times in the last few decades, and my view is that we're in the early stages of another such reversion to the mean.
Consider that the gold-to-silver ratio recently peaked at a historical outlier of 93, shown in this chart: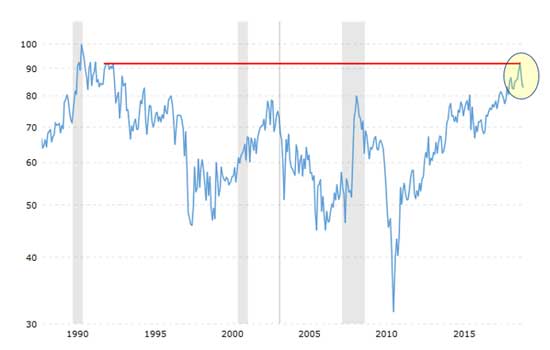 Such levels haven't been seen since the early 90s. We can see that it has already started to correct. But the ratio has a long way to go to approach its multi-decade average near 60.
Also, consider that, according to the 2019 World Silver Survey, just 26% of silver production came from mines that produce primarily silver. The other 74% of silver was a by-product of mines that produce mainly other metals like zinc, lead, copper, and gold.
The implications are enormous. When silver prices surge, supply response is slow. Few mines are silver-dominant, and increasing production is not like turning on a tap. What's more, when silver is only a by-product of mining other metals, those miners are unlikely to increase production just because their silver component has become more valuable.
All of this means that when gold and silver are in a raging bull market, silver eventually outpaces gold. And because supply struggles to meet increased demand, there's little to keep silver from soaring.
How the Dollar Is Pushing Silver Price
Here's the latest action in the U.S. dollar. It recently made a two-year high, but that turned out to be short-lived:
The Fed's last rate cut of a few days ago, though mostly priced in, is likely to keep weighing on the dollar. The U.S. dollar index actually rose slightly after the Fed rate cut. But it remained below its highs of the past month.
Silver's reaction to the rate cut was a modest drop. This suggests again that the metal had mostly priced in the cut. The lack of a bounce indicates to me that more consolidation lies ahead.
Shown in the chart below, if silver can't hold $17.50, the next target will be $17. Then it's the $16.25 area. This appears to be a time of digesting gains.
The bull will succeed in throwing off many riders, while the silver price will work off a lot of its overbought condition. We can already see that from the RSI and MACD momentum indicators. Both have been confirming the recent drop and are still trending downwards.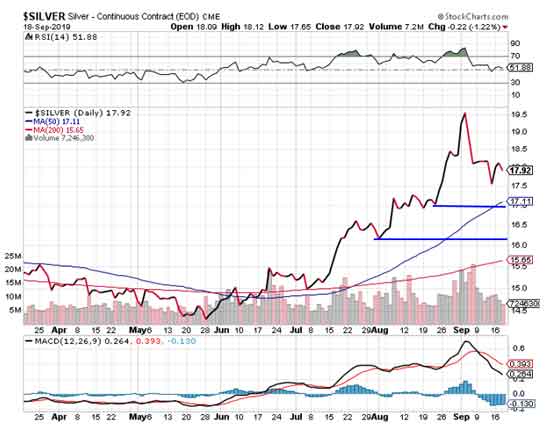 There's a good chance we will see a relief rally over the next few days. But I don't think it will be sustained. Instead, look for a likely better entry point once that fades.
As you can see in this next chart, the gold-to-silver ratio dropped even further from last month. But in the last couple of weeks, it has crept back up: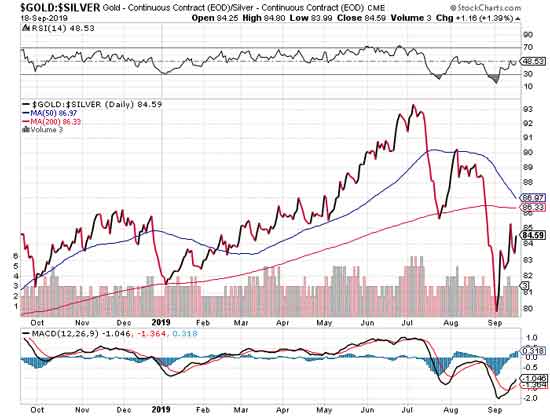 Now that we know the price of silver has the potential to push further up, here are some silver stocks to look at.
These have retraced recent gains just like silver prices did...
Silver Stocks to Buy Before the Surge
Join the conversation. Click here to jump to comments…
About the Author
Peter Krauth is the Resource Specialist for Money Map Press and has contributed some of the most popular and highly regarded investing articles on Money Morning. Peter is headquartered in resource-rich Canada, but he travels around the world to dig up the very best profit opportunity, whether it's in gold, silver, oil, coal, or even potash.