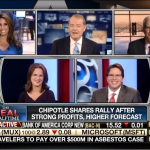 Apple Inc. (Nasdaq: AAPL) stock has climbed more than 56% in the last year and is currently trading just below its 52-week high of $97.10.
But with reports that the new iPhone 6 will have a similar screen size as competitor Samsung's signature smartphone, some are wondering if Apple is starting to become a "follower" instead of a "leader."
Money Morning's Defense and Tech Specialist Michael Robinson joined FOX Business' "Varney & Co." today and discussed apple's strategy behind the bigger iPhone model, plus where AAPL stock is going in the long-term...