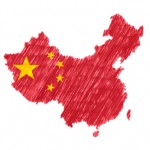 A combination of hard work and good fortune will pay off for U.S. auto companies in China in 2013, with Ford Motor Co. (NYSE: F) and General Motors Co. (NYSE: GM) both expected to book record sales.
Both U.S. auto companies set sales records in 2012. Sales of Ford vehicles in China rose 21% year over year to 626,616.
GM, which is neck-and neck with Volkswagen AG (VLKAY) for the title of auto sales leader in China, reported combined sales from its joint ventures of 2.85 million vehicles, a year-over-year increase of 11.7% over 2011.
Both Ford and GM have built factories in China, and both U.S. auto companies plan to continue expanding there in 2013.
Ford plans to introduce 15 new models in China and double its production capacity to 1.2 million vehicles by 2015. The company also plans to double its network of dealerships in the country.
GM, in the middle of a five-year plan to invest $7 billion in China, has plans to add a third factory and increase production to 2 million vehicles annually by 2015. GM has set a goal of selling 5 million vehicles a year in China by 2015.
GM also plans to add 400 dealerships in China next year, which would give it 4,200 in all.
Here's what U.S. auto companies see in this foreign market.