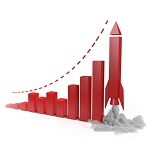 Best investments for the week ending Jan. 24, 2014: Stocks tumbled last week as investors fled global markets amid soft data out of China, and traders dumped crumbling emerging market currencies.
Disappointing Q4 earnings from a number of U.S. companies, including Johnson & Johnson (NYSE: JNJ) and Coach Inc. (NYSE: COH), also weighed on markets.
For the week, the Dow dropped 3.5% or 580 points, falling back below the 16,000 level to end at 15,879. The S&P shed 48 points, or 2.6%, slumping below 1,800 to end at 1,790. And the Nasdaq slipped 1.7%, or 69 points, to 4,128.
But Money Morning never slips - investors can always count on us to interpret the big market-moving events, sift through earnings reports, and share the best stocks to buy now.