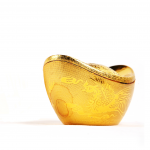 China remains a small player on the international gold scene, but that's about to change, and that's good news for those betting on higher gold prices.
You see, currently China's gold investors have few opportunities to play rising gold prices, which they want to do increasingly to hedge against risk and inflation. Most buy gold bars and notes to bet on higher gold prices.
But they will soon have more options.
The China Securities Regulatory Commission on Jan. 25 announced the country's rising gold demand required diversified investment instruments. It announced provisional guidelines for gold exchange-traded funds (ETFs), which have been prepared for launch over the past few years and will be made available soon.
The CSRC said that the gold ETFs would be invested in the spot contract traded on the Shanghai Gold Exchange and up to 10% on other products.
In the future, the funds could be opened up to futures contracts.
"Later on, we will further open up the market and quicken the steps to integrate into the international market," Xie Duo of People's Bank of China said. "We should actively create conditions for the gold market to become integrated with the international gold market."
Here's how this news is bullish for gold prices.