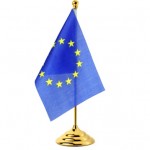 European Union officials voiced relief following an 11th-hour Cyprus bailout deal, but in truth, they have little to celebrate.
Not only will this deal worsen the economic crisis in Cyprus, but the damage to the trust in the banking system also has created a time bomb set to go off the next time a Eurozone country - or especially its banks - get into trouble.
Early Monday morning, Cyprus agreed to consolidate its two largest banks and inflict heavy losses on uninsured depositors. In exchange, Cyprus gets $13 billion in international loans to prevent the total collapse of the island nation's banking system.
"It is a bad deal, but the extreme scenario we had to contend with was worse," Lefteris Christoforou, vice chairman of the ruling Democratic Rally party, told Reuters.