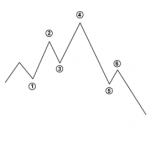 Richard Russell - godfather of financial newsletters, author, Dow Theory expert and longtime bear - just turned bullish.
One reason for his conversion: the Dow Theory, which is said to have formed the basis for all modern technical analysis through its definition of a trend and its reliance on studying price action.
The Dow Theory says the market is in a bullish trend if one of its averages - either the Dow Jones Industrial Average or the Dow Jones Transportation Average - advances above a previous important high and is followed by a similar advance in the other average.
The Transportation Average broke through its record high in January, and the Industrial Average hit an all-time high on March 5.
"With the Industrials and the Transports both in record high territory, I think being in the market is justified under Dow Theory," Russell wrote in his March 11 Dow Theory Letters, the oldest investing newsletter continuously written by one person.
But that's not to say it'll be a smooth ride for investors.
"My intuition tells me that there will be an early period [around now] of erratic and uneven scary advance, this to occur while formerly battered investors work up the nerve to enter this market," Russell predicted.
"Then the action will smooth out as the crowd gathers courage and confidence.Finally, in the last stage of this advance we might see the stock averages rise in parabolic fashion.This will be the time to pack our bags and get out."