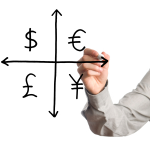 Even if you think you don't know how to invest in currencies, you are probably already doing so indirectly.
For example, if you own any large mutual or exchange-traded funds (ETF) that invest in U.S.-based blue-chips, you already own international juggernauts like McDonald's Corp. (NYSE: MCD) or Procter & Gamble Co. (NYSE: PG). That means your returns fluctuate on the strength of foreign currencies where these companies do business.
When the dollar is weak, international stocks and bonds are worth more in dollars.
And when the greenback gains, returns shrink.
So whether you know a rupee from a ruble doesn't matter – you're playing the currency game.
But knowing how to invest directly in foreign currencies can provide a valuable edge against the eroding purchasing power of the dollar.
Here's how to invest in today's currency markets and gain a valuable hedge against your dollar holdings.