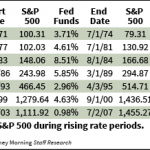 There is a lot of lip service being paid to the upcoming stock market crash that we're supposed to expect once the Federal Reserve starts raising rates.
Every time we get close to a regularly scheduled Federal Reserve statement, financial pundits pontificate about the nuances of what the Fed Chair might say, not say, or imply.
It's like clockwork.
But one theme remains constant: any tightening of the Fed's easy monetary policies will spell impending doom for the easy-money-addicted stock market.
The only problem, though, is that historical facts just don't support the fear. In fact, there are opportunities for investment out there no matter what rates do... Full Story