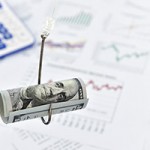 Back in 1998, my firm visited with a prominent money manager in New York City.
At the time, we were trying to raise money to invest in less?than?investment?grade corporate debt. We attended the meeting and, to put it politely, we were given the brush off. That was no big deal - it happened all the time.
But what that money manager said struck us as very odd...
"Why should I give you guys money?" he asked. "You can't make me one point a month like my friend can."
We responded, "It's not a 'point?a?month' world." And that was that.
Several years later, in 2005, we were sitting in front of another group that said it was interested in raising money for us.
The talks proceeded to the point where we were invited to meet with the company's founder and his top lieutenants.
These gentlemen explained they were looking for another product to add to the offering of their "winningest" manager, who was producing "consistent monthly returns in the 80 to 100 basis-point range."
That they were looking for a new product wasn't unusual. But the manager's purported returns sure as hell were. Stranger still, they wouldn't name the manager. The guy's identity was treated like a national security secret.
What's more, these gentlemen stressed repeatedly that they could not consider a strategy that might potentially expose them to losses of as much as 2% a month. Of course, we told them it would be impossible to guarantee that there would never be monthly losses.
Needless to say, the talks went nowhere.
In 2008, barely three years after that bizarre, fruitless meeting, the "winningest" manager with the top-secret name was in handcuffs, perp-walked across every television and front page in the Western world.
We'd had a brush, of the faintest kind, with Bernie Madoff.
Because of simple common sense - the certain knowledge that it's not "a point-a-month world," and a grasp of the fact that any investment can lose money - neither we nor our clients were ever in danger from the con man's massive fraud.
But the same can't be said of Madoff's 4,800 victims, of course, who lost close to $65 billion. On top of the financial ruin, at least two people killed themselves as a result of the Ponzi scheme, including Madoff's own son.
Now here's the really horrible thing: You might think the book is closed on Bernie Madoff. But the story didn't end when they slammed the cell door shut on him at the Federal hoosegow at FCC Butner.
Federal Prisoner No. 61727-054, and every single money manager unwittingly "infected" by him, are still costing unsuspecting investors millions of dollars.