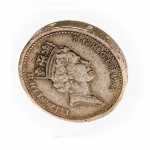 Shorting the yen has earned George Soros more than $1 billion in profits since November.
Now Soros has set his sights on the second-most-shorted currency in the world - the British pound.
And he may have company, as the Financial Times reports: Along with Soros Fund Management, Tudor Investment Corp., Caxton Associates and Moore Capital - some of the best global macro traders - "see similarities in UK's predicament to that of Japan" and are interested in shorting the pound.
This adds to worries about the pound, which has already fallen 5% this year. And with exports falling, productivity low, and gross domestic product shrinking last quarter, Britain's economic outlook is foggy at best.
"There could be a dramatic weakening of the pound this year," one of the world's top macro hedge fund managers, who declined to be named because he does not want his firm's positions becoming public, told the FT.
For Britain's sake, let's hope that weakening doesn't lead to another "Black Wednesday," Sept. 16, 1992 - the day George Soros "broke" the Bank of England.