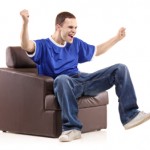 Professional sports are big business, to put it mildly. A top franchise, no matter the sport or market, can be worth billions of dollars.
More and more, sports organizations are beginning to offer shares to investors on the open market, but if you're to profit, you need to be armed with the right knowledge about how to invest in sports teams.
Sponsorships, ticket sales, broadcasting rights, and even tax breaks all contribute to the value of a team.
Most of these sports teams are held privately, in families or small combines. But there are ways you can figure out how to invest in sports teams, going from fan to financier by picking up shares of these organizations - but perhaps not in the ways you'd think.