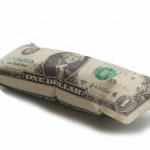 Is a spike in the monetary base - currency in circulation plus bank reserves at the Fed - the first sign of imminent inflation?
Art Cashin, the well-respected director of floor operations at the New York Stock Exchange for UBS, recently told King World News the increase in the monetary base may well be a sign of impending inflation.
Monetary base, sometimes called high-powered money, is the basis for the bank lending that drives our economy. When interest rates are normal, banks use their reserves for lending.
Unfortunately, these are not normal times. The U.S. Federal Reserve and other central banks around the world continue to hold interest rates at zero.
Zero interest rates mean zero returns. Investors don't get paid for investing. Banks don't get paid enough interest to compensate for the risk of lending money into the economy. Looking at it another way, there is no penalty for doing nothing with your money.