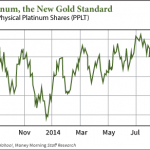 Back in March I spoke about the precious metal palladium, and why this rare metal was headed higher.
At the time, it traded at $780/oz. Yesterday, it was trading at $886/oz. at mid-day, so the predicted upturn played out true to form.
Still, there's another rare precious metal that's set to do as well as - or better than - palladium, but that isn't on too many investors' radar yet.
Here's why it should be... Full Story