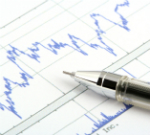 The week running up to Easter ended with a punk jobs report that punctuated a first quarter filled with a stream of consistently bad economic data.
March nonfarm payrolls grew by only 126,000, far below consensus estimates of 225,000. Worse, 69,000 jobs were subtracted from January's and February's tallies. The unemployment rate stayed at 5.5% only because the job participation rate jumped back up to its lowest level since 1978.
And while the cock-eyed optimists who are waiting for the economy and the markets to reach escape velocity like Vladimir and Estragon are still waiting for Godot were rushing to blame the number on the weather, the government reported that 182,000 people reported they couldn't get to work because of the weather in March - in line with historical norms.