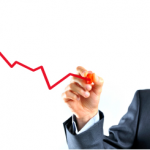 Economists breathed a sigh of relief when the Labor Department reported a better than expected April employment report on Friday, but the details show cracks still remain.
Many of the job gains proved to be in lower paying fields and the average number of hours worked dipped.
In fact, April's report revealed the average workweek for private sector employees declined 0.2 hour to 34.4 hours.
The data also suggests The Affordable Health Care Act, aka Obamacare, is already having an impact on hiring since job growth has slowed most significantly among businesses with 50-499 employees.
This could be the reason why...