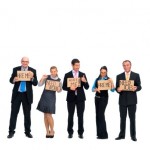 The U.S. Labor Department released the January 2013 jobs report Friday, showing the unemployment rate inched upward from 7.8% to 7.9%.
Employers added 157,000 jobs in January, short estimates of 168,000, which would have kept the unemployment rate stable.
The jobs report included some good news: Revisions to last year's data, customary in January, show the U.S. added 335,000 more jobs than initially reported in 2012, bringing the monthly average for jobs gained to 181,000 from the 153,000 initially reported.
Employment gains for November and December were revised higher by a total of 127,000.
Contributing most to January payroll increases were the retail, construction and healthcare sectors. The government continued to shed workers, a trend that began four years ago.
But the employment outlook remains bleak. Joblessness has proved persistent, with the unemployment rate stuck above an unhealthy 7% for more than four years.
"The good news is that January's employment gains, coupled with large revisions to the prior months, may translate into more consumer spending power. The bad news is that unemployment remains stubbornly high," said Kathy Bostjanic, director of macroeconomics analysis at the Conference Board.