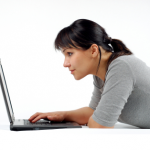 One of the biggest threats to the future of the U.S. economy is that more and more of the U.S. workforce lacks the skills needed to fill the jobs being created in the 21st century.
Last year, a survey by ManpowerGroup found that 49% of U.S. employers are struggling to fill essential jobs, because they can't find workers with the proper skills.
Amazingly, there are 3.8 million job vacancies in the U.S. Yet the Bureau of Labor Statistics says there are 11.8 million Americans looking for work and the U.S. unemployment rate is an unacceptably high 7.6%.
The crisis is having an adverse effect on individuals, communities, and businesses as well as the U.S. economy as a whole.
That's why improving education is one of the themes President Barack Obama is focusing on in his series of speeches on the U.S. economy this summer.