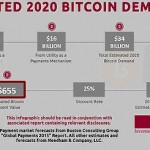 Another Wall Street firm has made an eye-popping Bitcoin price prediction.
This time it's Needham & Company, which has issued a report that says the Bitcoin price should be $655, about 57% higher than the current price.
Better still, Needham sees demand for Bitcoin rising over the next four years.