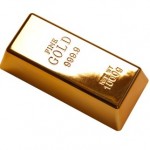 The U.S. Federal Reserve pixie dust resulted in higher gold prices this week, much as it lifted silver prices and stocks.
Gold buyers reacted enthusiastically to the Fed's announcement on Wednesday that it would not reduce its $85 billion a month bond purchases, known as quantitative easing, or QE for short.
Gold prices leaped the most in 15 months, after the Fed's "no taper" move, to about $1,365 an ounce.