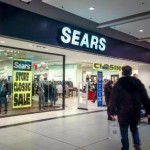 Sears stock (Nasdaq: SHLD) slumped 4% in premarket trading this morning (Thursday) before announcing financial results for its first quarter, which ended May 3. Overall, Sears posted a loss of $2.24 per share, vastly widening from Q1 2013's loss of $1.29 per share. The numbers were way off from analysts' more optimistic expectations of a projected loss of $1.91 per share. Revenue fell 6.8% to $7.88 billion.
Not much has changed in recent years for the retailer, which merged with Kmart in 2005.
You see, today's earnings are just another "nail in the coffin" in a long line of hits to SHLD stock - in fact, they mark 28 straight quarters of revenue drops for the retailer.