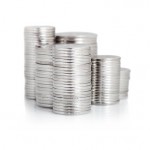 Thanks to that "party animal" Ben Bernanke, silver prices today are enjoying a nice bounce.
That's because the U.S. Federal Reserve chairman, along with the other members at the Federal Open Market Committee (FOMC) meeting yesterday, decided to keep the quantitative easing (QE3) flowing steady with $85 billion of bond buying per month.
After the Fed announcement, silver prices rallied by 5.5% to more than $23 an ounce. That's the precious metal's biggest one-day gain since June 28.