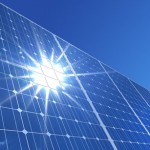 First Solar Inc. (Nasdaq: FSLR) stock is down 12% today (Wednesday) after reporting Q4 adjusted earnings of $0.89 per share on revenue of $768 million. Analysts surveyed by FactSet had projected earnings per share (EPS) of $0.98 on revenue of $973 million.
The adjusted earnings added $0.25 per share related to a recent agreement for First Solar to sell its facility in Mesa, Ariz. Generally accepted accounting principles (GAAP) earnings were $0.64 per share, which was down from $1.74 the year before.
Revenue for the full year 2013 was $3.31 billion - down 1.8% from 2012. Analysts at Zacks Investment Research had projected yearly revenue of $3.53 billion.