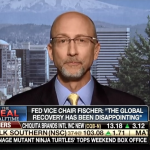 Today (Monday), Fed Vice Chairman Stanley Fischer conceded in a speech in Stockholm, Sweden that global recovery and growth have been "disappointing" since the Great Recession hit in 2007. Janet Yellen's No. 2 went on to warn listeners that these so-far weak economic recoveries may point to a permanent downshift in the world's top economies like the United States, China, Germany, and others.
Money Morning Chief Investment Strategist Keith Fitz-Gerald appeared on FOX Business'"Varney & Co."this afternoon to weigh in on Fed Vice Chairman Fischer's comments.
Watch the video to find out why Fitz-Gerald called Fischer and the Fed "delusional"...