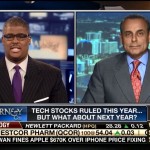 Money Morning Capital Wave Strategist Shah Gilani joined FOX Business' "Varney & Co." today (Thursday) to discuss the viability of tech stocks in 2014.
The hype and excitement that follow tech stocks can make them particularly volatile. Although Gilani cautions viewers against tech stocks that have reached 52-week highs, he generally believes tech stocks will soar in 2014, and states that "they're global, they're going to be here for a long time, and they're a good place to remain."
Gilani especially cautions viewers against Yahoo! (Nasdaq: YHOO), as he believes the "underlying numbers have not been looking great," highlighting lower display and search revenue in November.