Stock market selloff
Article Index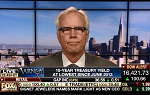 Ebola is fueling a market sell-off that's caused the worst losing streak for stocks in almost 3 years.
Here's what action our tech expert recommends investors take in response...
When the markets are down like they have been in 2014, it's smart to know how to protect your money from a stock market crash.
The Dow Jones Industrial Average has dipped 2.8% in 2014 and the S&P 500 is down 0.7%. Some experts see the current market sell-off continuing through the month of February.
While other investors worry about the markets tumbling further, you can start protecting yourself from a potential stock market crash.
Here are three strategies to prepare today.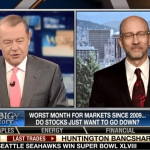 The Dow Jones Industrial Average plunged 326 points today, while the S&P 500 dipped 40 points and the Nasdaq dropped 107. In 2014, the Dow is down 7.3%, the S&P 500 5.8%, and the Nasdaq 4.3%.
Money Morning's Chief Investment Strategist Keith Fitz-Gerald joined FOX Business' "Varney & Co." today (Monday) to answer today's biggest question: Should investors be worried about this stock market selloff?
To continue reading, please click here...