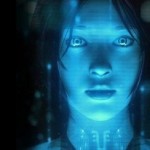 Most smartphones today come with voice-recognition software: You speak a question into your phone and the results come back to you via the wireless web.
Microsoft recently introduced "Cortana" as part of its Windows Phone 8.1, the key new update for Microsoft's mobile operating system.
Voice-recognition technology has now passed the so-called "tipping point" - it's now an integral part of personal computing.