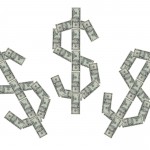 Business has been good for the federal government when it comes to student loans.
Over the past five years, student loans have generated profits of $120 billion for the Department of Education.
And the latest projections from the Congressional Budget Office (CBO) put the take from student loans for the 2013 fiscal year at $48.6 billion - helped along by a change in 2010 that eliminated the middleman and made the Education Department the direct lender for all government-backed loans.
It means the government will reap more in profits from student loans this year than any of the nation's largest corporations. Last year, for example, the most profitable company was ExxonMobil (NYSE: XOM), which reported income of $44.9 billion.
The money is rolling in partly because the Education Department has stepped up efforts to collect on delinquent loans, but mostly because the U.S. government can borrow money far more cheaply than the students to whom it is giving the loans.
The government's student loans now carry an interest rate of 3.4%, which has proved plenty lucrative.
But unless Congress acts soon, the interest rate on government student loans will double to 6.8% as of July 1. (The temporary 3.4% rate was supposed to expire last July, but last year Congress extended it for one year.)
Meanwhile, 10-year Treasuries go for about 2%, and 30-year Treasuries for about 3%.
That widening gap in rates could drive government profits even higher, but at the risk of appearing to exploit a struggling and vulnerable segment of the population.
"As the pomp of graduation fades, many college graduates become keenly aware of their financial circumstance: in debt," Ernie Almonte, chairman of the National CPA Financial Literacy Commission of the American Institute of CPAs, said in a statement. "They start out with an anchor that slows their progression toward future goals. It's a difficult reality confronting a growing number of people."