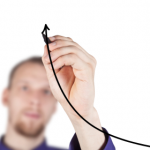 The bears predicting a stock market crash have it all wrong.
So says Jeremy Siegel, finance professor at the University of Pennsylvania's Wharton School and author of "Stocks for the Long Run." He predicts the Dow - which closed yesterday (Wednesday) at a new record high 14,455.28 - will continue the bull market run, ending this year in the 16,000 to 17,000 range.
For 2014, he says, the "best bet goal" is the Dow will climb to 18,000.
And the well-known bull has nearly 150 years of data to back up his bold prediction.
Here's why Siegel is so bullish.