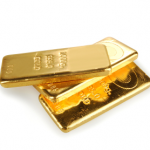 Gold climbed for the third session in a row, and is on track for its best weekly gains since April.  Gold futures for delivery in August rose 0.6% to $1,256 per ounce.
So is now the time to buy gold?
Many analysts say YES.  Here's why:
Buyers should look to the long-term, and see declines as an opportunity to purchase.
The best time to buy gold is when it hits a low, but is poised to bounce back up.
Well, gold has lost more than 30% of its value over the last 9 months.
And recently, other the performance of other markets are  bolstering precious metals - namely, the U.S. dollar index and price gains in crude oil futures.
As the dollar weakens, gold grows stronger.  David Meger, director of metal trading at Vision Financial Markets, tells Bloomberg, "The weakness in the dollar is putting some bid under gold."
Additionally, today (Wednesday) the U.S. central bank will release the minutes of its June meeting, and Chairman Ben Bernanke will speak on economic policy.