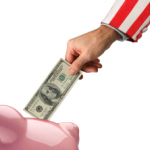 The U.S. Treasury, in order to avoid default, has resorted to an eyebrow-raising move: it has borrowed from the federal employee pension fund as the country nears its debt ceiling.
The U.S. government stopped investing in the federal employee pension fund Tuesday "to avoid breaching the statutory debt limit," according to a letter Treasury Secretary Timothy Geithner sent to Congress.
Geithner said that the move will free up some $156 billion in borrowing authority, while policy leaders in Washington wrangle over raising the $16.4 trillion debt limit.
Geithner promised the fund would be "made whole once the debt limit is increased," and maintains that federal employees and retirees would not be affected by the action.
But an IOU from the federal government isn't very settling for those relying on the fund for retirement.