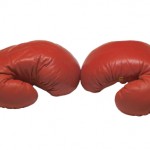 Republicans begrudgingly agreed to higher tax rates for the wealthy in the fiscal cliff deal, so now they plan to fight harder to get their way with spending cuts by using a major economic concern as leverage: the
U.S. debt ceiling
.
The federal government officially surpassed the $16.4 trillion debt ceiling on Dec. 31 but accounting tricks will keep the government functioning for about two months, to the end of February. That's when Washington will have to raise the limit or it will see a repeat of the
debt ceiling crisis the country endured in the summer of 2011
.
This is where the GOP sees a major opportunity.
In order to force Democrats to approve more drastic spending cuts, Republicans will threaten to deny raising the U.S. debt ceiling, no matter how high the immediate cost to the U.S. economy.
"Our opportunity here is on the debt ceiling," Sen. Pat Toomey, R-PA, said on
MSNBC
after thefiscal cliff deal was reached. "We Republicans need to be willing to tolerate a temporary, partial government shutdown, which is what that could mean."
But that strategy might not work out as planned.