As I write this, crude oil prices in New York are down 1.5% for the day. Now, this is nothing more than some short-term profit taking.
After all, we've just seen a 5.4% increase in oil prices over the past three trading sessions – an impressive trend.
So impressive, in fact, that some are now predicting a quick spike to prices above $60 per barrel. Amusingly enough, these are some of the same people who were calling for the sky to fall for oil markets not too long ago (I explained last month why they are not to be trusted).
Regardless, that's not going to happen. But don't worry…
We may not be getting $60 oil next week, but the weakness in oil that started in mid-2014 is finally drawing to an end, and I'm keeping my $50 prediction (from back in May) for the middle of this month intact.
You see, there are five reasons why today's oil price dip won't last, and why prices will rise, albeit in fits and starts…
And the second one is being ignored by the media…
The Price Floor, Not Ceiling, Is What's Important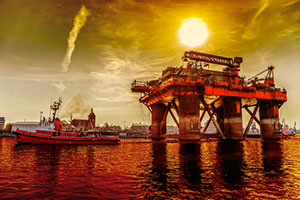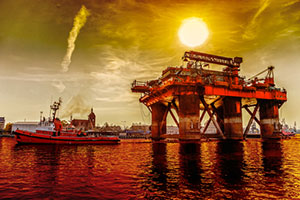 Through close of oil trade yesterday (2:30 PM), West Texas Intermediate (WTI), the benchmark crude oil futures contract grade in New York, had risen to $51.23 a barrel – up 14.7% for the month, 95.5% since its low for the year ($26.21 on Feb. 11), and higher than at any date since July 15 of last year ($52.41).
In London, the Dated Brent benchmark stood at $52.50 at the New York close of oil trade. That amounts to a rise of 15.3% for the month, 88.4% better since Brent's low for the year ($27.70 on Jan. 20), and at an over 10-month high ($52.50 on July 30, 2015).
While most of the pundits watch these prices, the ceiling of the pricing range, the genuinely more important action is taking place on the other end…
What is happening with the floor is far more important. There the rise is providing a strengthening resistance to any move back down to the prices we saw earlier this year. As you've seen on several occasions in Oil & Energy Investor, this marks a major change in the oil markets.
In addition to watching the price floor, another way to gauge the actual strength of oil pricing is to use the NYMEX strip. At any given time during the trading session, the strip provides a snapshot average of the price commanded by each monthly futures contract over the next 12 months.
The strip continues to rise in unison with the "contango" of the futures themselves. Contango means that the contract price increases as one moves month to month up the curve. For the next year (and actually beyond), each month's price is higher than the previous month's – we're in contango. That shows that traders are assuming that prices will continue to rise.
However, there are some other, external elements impacting the price of oil without having anything to do with the actual market dynamics at play. Many of these have been boosting prices, leading to worries if they were to disappear, the price of oil could fall below $50.
Reason No. 1: Nigeria's "Niger Delta Avengers"
At the head of the list is the declining security situation in Nigeria's oil-rich Niger Delta. There, an indigenous insurrection has cut oil production, taken control or destroyed oil infrastructure, made moves that signal a tenuous alliance with terrorist organizations elsewhere within and without the country, and cut oil exports significantly.
As Nigeria is one of the last main sources of prized light sweet crude, the cost implications of these attacks are having repercussions down the chain.
Reason No. 2: Libya's Civil War
Then there is Libya, the other primary source of light sweet crude. A civil war there continues to wreak havoc with the country's oil exports, as transport and port facilities become pawns in an ongoing power struggle.
Another cause for concern in Libya is the emergence of ISIS there. There are now indications that ISIS forces are increasing in influence in the eastern regions of the country, especially south of Benghazi, a major port city.
Reason No. 3: Canada's Raging Wildfires
The wildfires in western Canada remain a major external factor to affect oil prices. These fires have extended from the oil sands of Alberta east into the oil regions of Saskatchewan. Conditions remain very fluid with fires still raging and a limited ability to control the spread. Over the past 24 hours, further cuts in oil sands production have been announced.
In each of these three cases, it is the inability to predict how long the situation will remain that creates as much pressure on trading as the events themselves – traders hate unpredictability.
When uncertainty strikes anyway, oil traders write contracts using the cost of the expected most expensive next available barrel. If one errs, it is usually on the high side.
That, of course, serves to support higher prices.
And the disruptions themselves help too, with more than a million barrels per day of oil production having been taken off the market.
Apart from these events, two other factors are also supporting higher oil prices. Both are closer to the actual dynamics of the market…
Reason No. 4: The Falling Dollar
One factor is the value of the U.S. dollar. The greenback has been weakening of late against other major currencies (especially the euro). Since oil trade is denominated in dollars, a decrease in the value of the dollar makes oil cheaper abroad, boosting demand and increasing the price of oil in dollar terms.
Reason No. 5: Decreasing U.S. Oil Production
The final factor is declining oil production. Despite this year's rise in prices, oil remains too cheap for major unconventional (shale and tight) oil production in the United States to resume. In fact, that production is now low enough that surplus stockpiles of oil are decreasing.
As oil demand continues to improve, these drawdowns support higher oil prices.
Now, there is a pricing threshold of about $65 a barrel that would justify an increase in production activity, but only for half-cycle projects (those for which infrastructure and well completions are already in place).
Of course, increasing production will also return additional volume to the market, which will act to slow rising prices and could easily prompt a retreat.
All of this means that, while the outlook for oil prices is improving, this will very much be a balancing act for the remainder of the year. A $60 per barrel price is possible before the year is over, but the road there will not be a straight line.
But there's no need to worry. With oil prices at $50-$60 per barrel and the price floor stable, a number of select companies will return to profitability, providing plenty of opportunities.
In other words, things are finally looking up for investors, with some nice gains on the horizon.
Follow Money Morning on Facebook and Twitter.
What Shell's Billion-Dollar "Free Gas" Project Means for You: Last week, Shell announced a massive, multibillion-dollar investment in western Pennsylvania. But even more important than the investment's size is what exactly Shell is building there, how it'll impact the future of natural gas in America – and the fantastic opportunities it's going to open up for investors…
Join the conversation. Click here to jump to comments…
About the Author
Dr. Kent Moors is an internationally recognized expert in oil and natural gas policy, risk assessment, and emerging market economic development. He serves as an advisor to many U.S. governors and foreign governments. Kent details his latest global travels in his free Oil & Energy Investor e-letter. He makes specific investment recommendations in his newsletter, the Energy Advantage. For more active investors, he issues shorter-term trades in his Energy Inner Circle.