Oil Prices
What's Next for Oil Prices in 2017
Oil prices surged during the first half of 2016. In February, the price of the U.S. benchmark West Texas Intermediate (WTI) hit a historic low of $26.21, but it rose more than 50% in the following months. The global benchmark, Brent crude, followed a very similar pattern in the first half of 2016.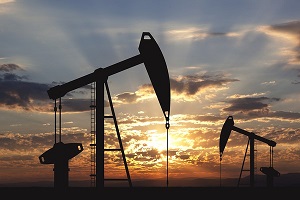 Despite price fluctuations in June and July, Money Morning Global Energy Strategist Dr. Kent Moors believes the WTI crude oil price is currently in a sustainable range and could hit the mid-$50 per barrel by the end of 2016.
He forecasts that WTI crude oil prices will climb to the low $60 per barrel range in 2017 and sees Brent oil prices per barrel in the mid $60s next year.
Before we get into why our Money Morning oil price prediction shows these double-digit gains in 2017, here's a recap of the 2016 price fluctuations…
The First Half 2016: Supply, Demand, and the Spiking Dollar on Brexit Fears
The rise in oil prices during the first half of 2016 was driven by two of the most basic economic forces: supply and demand.
First, in May, the price of both WTI and Brent hit a six-month peak when the International Energy Agency (IEA) forecasted a drop in production of 200,000 barrels daily during the last six months of this year.
Second, not only was expected supply dropping but expected demand was rising. Several months ago, the IEA reported demand projections rising in 2016. The IEA estimates that worldwide demand will increase by 100,000 barrels daily this year as well. The driver? Largely China and India, two robust emerging markets.
Falling supply and rising demand have been bullish for oil prices in 2016.
The first half also had the U.K.'s vote to leave the European Union in late June. Moors terms the Brexit decision "the biggest single event to jolt markets in decades." Why? In the short term, it sent markets – oil, stock, and currency – down steeply on uncertainty fears.
In the case of oil specifically, though, the flight to a safe haven in the U.S. led to an increase in the U.S. dollar. Because oil is denominated in dollars, it becomes more expensive to overseas buyers when the dollar advances. That can restrict their demand going forward.
While Moors believes that the two-year negotiations between the U.K. and the EU will continue to exert a downward drag on oil prices, any weakness will be offset by bullish factors later in the year and into 2017.
Three Factors That Will Drive Oil Prices Higher
For the rest of 2016, Moors expects WTI crude oil to trade in a range of around $40 per barrel minimum and rise to a range of $60 per barrel in 2017.
Despite that forecast, the markets have seen near-term fluctuations. In late July, markets reacted to a drop in oil prices. WTI crude oil price fell to $42.41 per barrel, the lowest price since mid-April, when it closed at $39.78. Futures dropped 12.2%. The Brent crude price per barrel was down 11% in late July.
Why such a relatively steep decline? Some analysts are concerned about rising supplies of oil in the United States. You see, the Baker Hughes (NYSE: BHI) oil rig count has been climbing. During July, BHI reported that active rigs were increasing for the four straight weeks.
A rise in rig count during 2015 led to a drop in crude oil prices of 50%. Morgan Stanley (NYSE: MS) estimates that supply outside of the OPEC producers will climb this year – and that crude prices per barrel will bottom at $35 in 2016.
Moors cautions that the pullback in oil prices is a normal market fluctuation, and oil won't fall as low as Morgan Stanley predicts.
He cites three reason that support his $50 per barrel price range this year – and a rise to a $60 range for WTI per barrel in 2017.
The first bullish factor for oil prices is peaking worldwide output.
In the early part of the year, output by OPEC hit more than 32 million barrels daily, its highest level in nearly two decades. Output in Russia reached nearly 11 million barrels, the highest level in three decades.
Moors observes that production in the U.S. from shale is reaching a high as well. You see, tight oil wells and shale oil wells pump the majority of their production within the first year and a half.
According to Moors, production of oil by shale drilling, though, becomes expensive. As a result, oil companies are moving to a type of well dubbed "drilled but uncompleted" (DUC). As the term implies, a DUC hasn't reached its output peak. They still have oil, so oil companies are going back to them.
Why? They are more affordable than other methods of obtaining oil.
DUCs are slowly being used to supplant shale as an oil supply source. The oil companies don't want more supply flooding the market.
As Moors puts it, "an increase in DUCs doesn't mean we are approaching some major boost in production. But they also represent another element restraining the slide in prices."
The second factor supporting a bullish oil price forecast is falling supply due to the financial situation at oil companies. They can't afford to keep wells working when their product commands just $46 per barrel at the market.
Over the past two years, supply has been on a steady downward march – which Moors estimates will not reverse soon. According to the BHI rig count, active U.S. oil rigs totaled 337 in late June. At its peak two years ago? Rigs totaled approximately 1,600. That's a whopping decline of nearly 79%.
Because oil rigs can cost between $500,000 to $3 million to operate and maintain, it is not cost-effective to keep them going until crude oil starts to hit $65 per barrel. Production may ramp up when it hits that level. Most companies need WTI crude to be close to $70 per barrel before they hit reasonable profitability.
So, the BHI rig count shows that the oil companies are shutting down more and more oil rigs. Essentially, we will see a dropping count until supply is constrained enough to drive prices higher.
Oil firms not only need a particular price per barrel to be profitable, they also need to reduce the money spent on operating wells. That will help these companies manage their swelling debt. During the period of low prices, the balance sheets of Big Oil became overloaded with debt. The need to service it takes a substantial amount of their cash.
Moors observes "the energy debt crisis is getting worse for a number of oil companies because they simply can't roll over their high-risk debt and cover the 21% annualized interest rate."
The operating cost versus balance sheet dilemma is bullish for the price of WTI because falling supply due to shut wells will boost the price.
Ultimately Moors sees some oil producers succumbing to bankruptcy or mergers and acquisitions within the field. Either (or both) would reduce the number of oil players.
Meanwhile, demand is expected to keep climbing. The U.S. Energy Information Administration (EIA) expects yearly oil consumption worldwide to grow 1.5% to 95.26 million barrels per day in 2016. Further growth of 1.5% is expected next year as well, to 96.73 million.
The third bullish factor is the relationship between two global oil superpowers, Iran and Saudi Arabia. Political strife between the two has led to strife in the oil markets, with oil production as the weapon. Saudi Arabia's Deputy Crown Prince Mohammad is attempting to crowd out exports from Iran by hiking the output of OPEC.
Moors observers that "Saudi Arabia's output war with Iran will put a cap on how quickly oil prices increase around the world. Remember, high oil prices aren't required to profit from this market. The only thing we need is a narrow trading range and stability in prices."
How to Profit from the Oil Price Forecast
Moors says the most prudent way to benefit from rising oil prices is to invest in a basket of oil services stocks via an exchange-traded fund (ETF). With an ETF, investors don't have to worry about futures contracts. ETFs can be purchased and sold as easily as individual stocks.
His top pick to benefit from the forecast ranges is the VanEck Vectors Oil Services ETF (NYSE Arca: OIH). OIH holds 25 oil stocks. The top two alone are expected to post impressive returns over the next year. Those two are Schlumberger (NYSE: SLB) and Halliburton (NYSE: HAL). In the next 12 months, SLB is estimated to reach $90.29 per share and HAL is forecast to reach $50.61. From today's prices, those targets translate to share price increases of 14% and 18%, respectively.
OIH closely follows the MVIS U.S. Listed Oil Services 25 Index, which tracks the largest 25 U.S. oil field services companies. Some of these, like SLB and HAL, are the largest oil services companies globally as well, with market capitalization of more than $100 billion each.
The exposure to the 25 biggest oil services firms means that investors don't bear the risk of investing in small oil services companies in a range-bound oil price climate. Larger firms will make it through the oil company debt crisis in all likelihood. Smaller companies are more at risk of being acquired or succumbing to bankruptcy. Those small companies should be avoided now.
Investors can also benefit from the climbing price of oil long term through two other funds. One is the United States Oil Fund LP (NYSE: USO). The second is the SPDR S&P Oil & Gas Exploration & Production ETF (NYSE: XOP), which allows investors to gain exposure in a group of oil exploration and production companies.
Investors who want a stock to play the oil price increase are advised to buy one of Moors' picks to benefit from its position in the pipeline, Genesis Energy LP (NYSE: GEL). Houston-based GEL is a master limited partnership (MLP).
Roughly 90% of MLP revenue comes from oil and gas. Midstream MLPs connect refiners and producers via the transportation and storage of oil.
Because they are not out in the fields exploring and pumping the wells, the transportation and storage provider MLPs benefit from rising prices, but have far less exposure to any downside in the oil patch than oil producers do.
GEL shares currently trade at $36.36. Its one-year price target, according to Thomson Reuters, is $41.25. That's a 13% price increase.
The other upside to GEL is a very strong dividend. It is currently 7.66% – impressively better than the 2.1% average yield of the S&P 500 dividend payers.
Big Oil: Avoid the Individual Stocks
That said, Moors does not recommend investing in individual Big Oil stocks. The eight biggest U.S. oil firms are household names like Exxon (NYSE: XOM), Chevron (NYSE: CVX), Royal Dutch Shell Plc. (NYSE ADR: RDS-A), Total SA (NYSE ADR: TOT), Eni SpA (NYSE ADR: E), BP plc. (NYSE ADR: BP), ConocoPhillips (NYSE: COP), and Phillips 66 (NYSE: PSX).
To top it off, XOM and CVX did register nice share price increases in the second quarter, at 11% and 9%, respectively. Given that Big Oil was a poorly performing sector for nearly two years, that might look like the start of a positive climb at long last.
But Moors does not expect any quick upturn for Big Oil. They are suffering from years of falling oil prices. Dropping and low prices affected their balance sheets, and recovery will not be swift. In 2015, Big Oil's return on capital was only 7%. A decade ago? It was more than 20%. Maybe even more critically, its debt has risen 10 times above decade-ago levels. Production has fallen 9%.
That's why it is best for oil and energy investors to stick with the ETFs and other funds that were recommended earlier.
Stay informed about crude oil prices today and expectations for the future. Click to receive personalized email alerts from the industry's greatest stock pickers.
Follow Money Morning on Facebook and Twitter.
Are oil prices expected to rise in 2016 and 2017?
Oil prices in 2016 have been very volatile. Because of high production, there is more supply than demand. Members of OPEC have been meeting to talk about putting a cap on oil production, but so far an agreement has not been reached. But Money Morning Global Energy Strategist Dr. Kent Moors believes that Saudi Arabia has an incentive to convince other OPEC members to limit oil production to help oil prices climb. Saudi Arabia is offering an IPO for its Saudi Arabian Oil Co., and the IPO will more successful if oil prices are higher. Here's what Moors says investors need to know about this IPO, and what it will do to oil prices.
Why are oil prices falling globally?
The main reason oil prices are falling globally is excessive production. One country in particular is part of the excessive oil production and isn't willing to curtail its activities: Iran. The U.S. placed sanctions on Iran in the energy/petroleum industry in 1995, limiting its oil sales for global markets. The European Union placed their own sanctions on Iran in 2007. Sanctions against Iran were lifted on Jan. 16, which restored its access to selling oil to the global markets. But because Iran hasn't been able to sell oil to the global markets for so long, it's willing to produce excessive amounts of oil now to sell as much as possible. With Iran producing excessive oil, it gives little reason for other OPEC members to limit their production, as Iran would just sell its oil to the customers of other OPEC members who cut their own production.
How do oil prices affect the U.S. economy?
Oil prices affect the U.S. economy in several ways. Higher oil prices makes the price of food, clothes, and other goods rise because of the higher transportation costs. Higher oil prices also create a larger demand for fuel-efficient vehicles, such as hybrids and electric cars. With lower oil prices, American households reportedly save more money. Fed Chairwoman Janet Yellen said that American households save an average of $700 in 2015. In theory, this saved money should result in households spending more on other items.