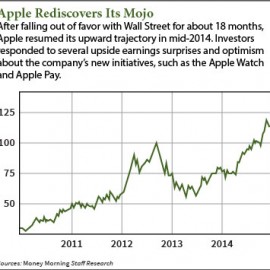 Our Apple stock forecast for 2015 anticipates another good year for Apple Inc. (Nasdaq: AAPL).
The Cupertino, Calif.-based tech giant has been on a major roll of late, with AAPL stock up more than 40% in 2014.
Now Apple is set up for record profits in 2015. Sales of the iPhone 6 show no signs of letting up, and the company has a completely new product category on the horizon in the Apple Watch.
It also has enough cash - $155 billion as of Sept. 30 - to finance its visionary strategy for years to come.