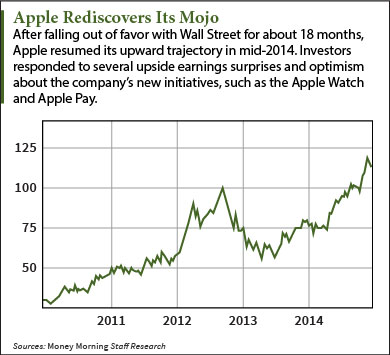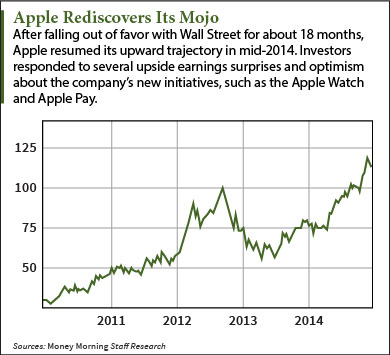 Our Apple stock forecast for 2015 anticipates another good year for Apple Inc. (Nasdaq: AAPL).
The Cupertino, Calif.-based tech giant has been on a major roll of late. AAPL stock has risen more than 40% in 2014. Its market cap of nearly $657 billion is the largest by far of any company in the world.
Now Apple is set up for record profits in 2015. Sales of the iPhone 6 show no signs of letting up, and the company has a completely new product category on the horizon in the Apple Watch.
It also has enough cash – $155 billion as of Sept. 30 – to finance its visionary strategy for years to come.
Here's the breakdown of what's fueling this bullish Apple stock forecast for 2015…
Apple Stock Forecast 2015: An iPhone Company Now More than Ever
The iPhone is by far Apple's most important product. It accounts for more than half of Apple's profits. The latest models, the iPhone 6 and iPhone 6 Plus, continue to sell almost as fast as Apple can make them.
Demand is so crazy that BMO Capital analyst Keith Bachman suspects Apple is hoarding the latest models for sale in its own retail stores. A check of third-party sellers found limited supplies of the low-end 16GB models and none of the pricier 64GB and 128GB models.
This means Apple will deliver great news to investors on Jan. 27 when the company reports Q1 2015 earnings. Sales of the iPhone could surpass 70 million units in the current quarter, which would be a 37% year-over-year increase. Depending on how well Apple's other units perform, numbers like that could increase profits by more than 20%.
Such popularity bodes well for the whole first half of 2015. Higher-than-expected sales of the iPhone 5 models helped AAPL deliver upside surprises in the March and June quarters. Look for the iPhone 6 to do the same.
And by the mid-year, Apple stock will have this new catalyst…