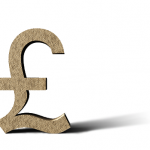 As the global currency war intensifies, the majority of attention has been paid to the 17% fall of the Japanese yen against the U.S. dollar over the past few months.The implosion has given cover to the sad performance of another once mighty currency: the British pound sterling.
But in many ways the travails of the pound is far more instructive to those pondering the fate of the U.S. currency.
Japan has a unique economic and demographic profile which makes it a poor stalking horse. Newly elected Prime Minister Shinzo Abe and the Bank of Japan have clearly and forcefully committed Japan to a policy of inflation at any cost.
Even in a world of serial money printers their plans stand out as exceptional. Britain, on the other hand, is charting a more conventional course to the same destination.
Limited Time Offer: To receive a free copy of Peter Schiff's new bestseller, The Real Crash, click here.
The UK government, under conservative Prime Minister David Cameron and Chancellor of the Exchequer George Osborne, has succeeded in bringing marginal discipline to their budgetary imbalances.
From 2009 to 2012, British government expenditures rose a total of just 1.6%, which was far below the official pace of inflation. (In contrast, U.S. federal spending grew by 7.9% over that time period). Since 2009 the British have kept their debt-to-GDP ratio lower than America's and have cut into that metric at a faster rate.