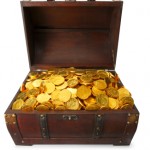 There are engineering projects and then there are generational engineering projects.
A supertall skyscraper like Dubai's Burj Khalifa or New York City's One World Trade Center may take six or eight years from beginning of construction to topping it out. Contracts to construct buildings like these can bring significant revenues to the companies who land the jobs.
Then there are even bigger projects, huge infrastructure investments that have the tendency to alter the destiny of nations over the course of generations. Some of these projects are designed to be worked on and expanded indefinitely.
The challenges that changing climate and demographics pose will bring about a wave of these mega-projects around the world, most of which will take at least a generation to complete, and in many cases, far beyond that.
When they're finished, the face of the planet will be changed, hundreds of millions of people will be affected - for the better. And investors with the foresight to get in on the ground floor could end up being very rich.
The Delta Works
The Dutch have battled the North Sea and their rivers for centuries, keeping the water out, and claiming living space for their small, densely populated, low-lying country. Much of Western Europe drains into the Netherlands' meandering river system. Between the sea and the rivers, the country is in a watery squeeze, but it's more than holding its own.
Most of the Netherlands' territory has been claimed from the sea, two-thirds of its citizens live below sea level, and more than half the country lies at 1 meter or less below sea level.
After a disastrous flood in 1953 killed thousands and inundated more than 9% of their total farmland, the Dutch realized that a long-term solution was needed.
The Delta Commission, was formed, and afterward conceived of a mega-project under the omnibus Deltaplan, comprising a huge network of dams, bridges, sluices, locks, dikes, and storm surge barriers erected all over the soggy Rijn, Maas, and Scheldt deltas in the northwest of the country.
More than 50 years on, the system has worked with typical Dutch efficiency and effectiveness, but it's not truly "complete" yet.