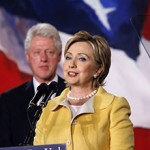 Earlier this year on April 23, Reuters published findings of a review it performed on the Clinton Foundation's tax filings.
It was a splash. The news agency broke down several Clinton Foundation tax errors, and it mainly "found errors in how [the charity] reported donations from governments" -- raising questions of wrongdoing and a suspicious lack of transparency.
Clinton Foundation spokesman Craig Minassian emailed to Reuters an admission the tax returns were flawed. He said they would have to be refiled.
Indeed, on the exact Nov. 16 deadline, six years' worth of the charity's erroneous tax returns were refiled.