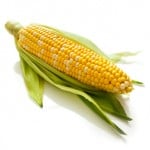 Last year's crippling drought has led to a spike in global corn prices and tightened available supply stocks, as U.S. farmers experienced staggering crop destruction from the sweltering heat.
But this year, Mother Nature seems to be making up for lost time.
Farmers have been inundated with so much rain in the planting season months that just 54% of the Iowa corn crop is rated good or excellent as of last week. The 10-year average of the state crop is 74%, which is raising concerns given that the planting season recently ended.
Nationally conditions are improving following a recent rush by farmers to complete corn planting to beat crop insurance deadlines. As of last week, 65% of the U.S. corn crop is currently rated in good or excellent condition, down 3% from the 10-year average.
Ongoing storms across the Northern Corn Belt have made it increasingly difficult for farmers to get seeds into the ground. The slower-than-normal pace of plantings has fueled concerns that U.S farmers would plant less corn than earlier USDA estimates, reducing the size of this year's crop.
Now, with more unpredictable weather on the horizon, all eyes look to Friday with big announcements by the USDA on planted acreage and the quarterly figures for corn stocks.