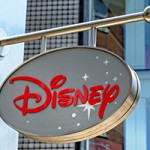 Disney stock is down almost 13% this year and 21% in the last three months.
The latest Star Wars installment failed to give Walt Disney Co. (NYSE: DIS) stock an expected boost in January, despite generating over $1.5 billion in domestic box-office revenue.
"Star Wars," however, helped Disney almost double its studio operating income to $1 billion in its first-quarter earnings report, which it released Tuesday.
In its best quarterly earnings ever, Disney's earnings per share jumped to $1.73 a share from $1.27 a share in the same quarter last year.