dow jones performance
Article Index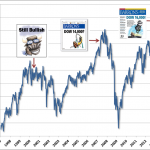 The last two stock market crashes have shortly followed this…Read more...
Many investors want to celebrate the Dow hitting seven straight new all-time highs last week.
But things are not exactly as they appear.
Today I want to talk about why the hoopla surrounding the Dow is misplaced and what it means for your money. Then I want to tell you what's next for the markets.
First, here's why the Dow's current numbers are "bull-o-ney"...