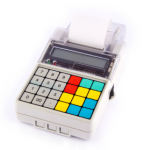 Although you might think the markets simply respond any time Ben Bernanke sneezes, his "cold cycle" is not one of the indicators that will spell the slowing
and eventual cessation of the printing press at the Fed.
There actually is a mathematical formula used by the Federal Reserve to determine when to stop the presses.
I could give you the formula and it would look like this:
POP2 = [1-(%∆POP) m*m] *POP1.
Or, I could share the link to the Federal Reserve's Jobs Calculator in Atlanta.
This is the same calculator used by the Fed to determine when the jobs market and the unemployment rate will align properly. And when they do, it will signal to the Federal Reserve that it might be a good time to start tapering its $85 billion a month bond buying program.
This is what needs to happen: The economy will have to show new job growth.
The Fed is looking for the creation of 150,000 to 200,000 new jobs each month for 6 months. This is how we look now: