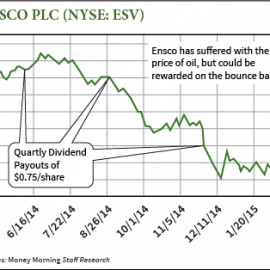 [Editor's Note: Tom Gentile is the co-founder of Optionetics, a financial education company which he later sold to one of the world's largest retail brokerages. Tom leveraged his 25 years of experience trading stocks, futures, and options to teach more than 300,000 people the secrets to profitable, low-risk investing.
Tom is the author of a book, The Trading Index Course, which lays out the basis of his highly successful system for trading options, and he's a frequent contributor to CNBC, Reuters, Bloomberg, and FOX. We're excited to have him with us...]
Oil has been a glutton for punishment, getting rocked by sellers and dropping some 55% from the highs of last July.
Up until just a few months ago, nearly every analyst and hedge fund manager in this space was offering up his or her commentary on how oil had bottomed and how it was time to buy.
Now it seems that fewer traders are willing to make that call, offering a glimmer of hope for contrarians like myself.