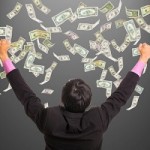 Last week, our nation's biggest banks lost a portion of an outrageous handout they've been garnishing from American taxpayers for the last 102 years.
This free handout is a ploy seldom covered by mainstream media - which, as we all know, is now generally loath to upset the powers that be.
It happened Tuesday, when Congress released a highway bill that uses surplus funds from the U.S. Federal Reserve to help pay for the legislation's $325 billion price tag.