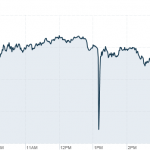 The Twitter flash crash on Tuesday that very briefly shaved 140 points off the Dow Jones Industrial Average should be of great concern to retail investors.
That short and sudden dip in the markets, caused by a false Tweet on a hacked Associated Press account that suggested President Obama had been injured in a bombing at the White House, was yet another reminder of the risks that high-frequency trading (HFT) poses to the markets, and to retail investors in particular.
Simply put, HFT is the practice of using supercomputers to execute trades in milliseconds.
Because high-frequency trading accounts for at least half of the market, any hiccup in the system can have an instant and dramatic impact, as we saw with the now-infamous flash crash in May 2010 that sliced 1,000 points off the Dow in 10 minutes.
As if that weren't already treacherous enough, HFT firms increasingly have added social media inputs, like Facebook (Nasdaq: FB) and Twitter, to the mix, to scour their feeds for news that could affect stocks.
So now even something as absurd as a fake Tweet can move markets.
"Algorithms used to trade off news headlines, now they trade off tweets. That's very dodgy, very shaky ground," Oli Freeling-Wilkinson, chief executive officer of the London-based analytics firm Knowsis, told Reuters.