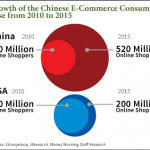 With all the talk of Alibaba being the biggest IPO ever, the next question to answer is: How much is Alibaba really worth?
When Alibaba announced its initial stock price range, the company said it would reach a valuation of $155 billion at the midpoint of that range. Now that Alibaba has lifted the range, it will likely be valued much higher. A survey of Bloomberg analysts concluded that Alibaba could be worth roughly $200 billion following the IPO.
A key factor in how much Alibaba is worth is the Chinese e-commerce market.