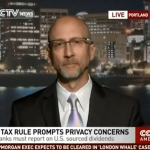 Money MorningChief Investment Strategist Keith-Fitzgerald talked with China Central Television - America on Tuesday about the Foreign Account Tax Compliance Act (FACTA).
The act appears to be targeted at capturing the ill-gotten gains of wealthy criminals who hide money overseas. But will it have unintended effects on ordinary Americans who live and do business abroad?
Watch the video and find out.