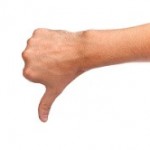 On Friday at 11:29 a.m., Politico published a hit piece about 2016 presidential candidate Ben Carson entitled, "Ben Carson Admits Fabricating West Point Scholarship."
The story alleges Carson's campaign "admitted" to the publication he "fabricated" his scholarship to the U.S. Military Academy at West Point, which is detailed in his autobiography, "Gifted Hands." The story also suggests Carson lied about his "acceptance" into West Point.
The Ben Carson Politico story is false. And it's poor journalism.