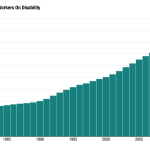 Since the start of the recession in December 2007, one in four workers who stopped looking for employment and dropped out of the U.S. labor force found another source of money: collecting disability from Social Security.
And in that same time span, the number of Americans receiving benefits from the Social Security Disability Insurance (SSDI) program has grown by more than 25%.
That's brought the percentage of Americans who might otherwise be working but are on SSDI to 5.8% of the total labor force, compared with just 1.7% in 1970.
Last year, Social Security paid nearly $220 billion in disability checks and related Medicare costs to more than 8.8 million people and 2.1 million of their spouses and children. (Those on disability for two years become eligible for Medicare.)
It's not just aging baby boomers who are adding to the soaring number of those collecting disability. Of the nearly 9 million former workers currently receiving federal disability payments, more than 2.5 million are in their 20s, 30s and 40s - traditionally prime working years.
What's behind the huge increase remains unclear, but statistics show a definite connection between the decrease in the welfare rolls, beginning in the mid-1990s, and a sharp rise in the number of people collecting disability.